Starting
You can create a complete survey in 5 easy steps. But before you start, you have to create an account.
After you login, you will be presented with the summary page. Click on the 'New' button in order to start putting your survey together. The first step you will start with is 'Step 1'. You can navigate to next steps after you complete the current step you are in.
Step 1: Settings
This is where the general settings for the survey is done.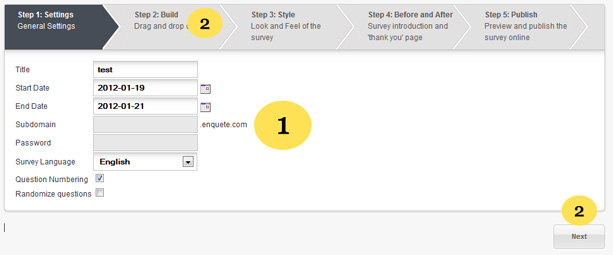 Title: the text you fill in here will be dsplayed on the title of the browser and eventually on the head section of your survey.
Start- and End Date: the survey will only be accessible to everyone when it is within the Start and End date.
Subdomain: you can give your survey a unique url. example: yourcompany.enquete.com
Password: this field is used to protect your survey with a password. This forces respondent to enter the right password before they can start the survey.
Survey Language: this will be the language of the navigation buttons of the survey when it is online.
Question Numbering: check this field if you want your survey to be numbered.
Randomize question: check this field if you want the questions to be randomly sorted.